In the News

Harry Potter Delayed Again…
The Harry Potter craze continues. Only a few months after the first film was released in stores, the next film is prepared to hit the theaters on November 15. The first film took in over 300 million dollars, becoming the top moneymaker last year. The first four books have sold over 140 million copies worldwide, with Scholastic, the American publisher, having sold over 200 million dollars worth of Harry Potter books in 2001 alone. (Birmingham News, 8/29/02, p. 7E)
Since the release of the first book, Harry Potter and the Sorcerers Stone, there has been much debate about the appropriateness of the book series, particularly in the Christian community. However, no matter where one stands in that debate, what cannot be ignored is that the books have been immensely popular and that author Joanne Rowling has become a cultural icon to young readers.
But it's not all good news for Harry Potter. Controversy over the future of the series has developed, sparked by the second delay of the series' fifth installment. Originally slated for last July, the new projected release date is June 2003. Speculations for the delay vary, but seem to center on the fact that author Joanne Rowling's interest in writing isn't as strong as it once was.
As her "unauthorized biographer" Sean Smith has pointed out, "Rowling started writing when life was a struggle for her. Today everything is rosy. She's newly married, she has three beautiful homes and she can buy anything she wants." (Ibid.) Perhaps Rowling, like many authors and most college students, does her best work while under pressure.

Hogwart's May Open Soon…
In the Harry Potter series, Harry and his friends attend Hogwart's School of Magic, a boarding school where wizards are trained in the magical arts. Though there is really no such place as Hogwarts, it seems one British couple has designs on opening just such a school. Bev and Del Richardson hope to begin their school in their cottage, Castle Pook, in County Cork, Ireland.
Mr. Richardson, who has been a witch for some thirty years and claims to have been trained in the craft by Gerald Gardener, the founder of the modern Wiccan Movement, said, "I'd just like people to realize that all they need is the courage to access the magic because it's out there. So many kids come out of university with these brilliant degrees but they don't know anything about the world around them." (The Times Online, 8/17/02)
Sharing his "skills" with others is nothing new for Mr. Richards. In fact, recently "more than 50 witches, wizards and druids congregated at the cottage and its 13-acre grounds . . . for a series of magic classes and workshops, which he wants to run regularly." (Ibid.) These included classes on personal auras and the Ogham alphabet (an ancient Celtic script), lectures on the Divine Feminine for women and the Divine Warrior for men, and a class on how to make a crystal-tipped wand.
According to the Times, "The Richardsons, unemployed and the parents of seven children, are now aiming higher. They have started to charge visiting witches and hope to develop their teaching service." (Ibid.)
While the Harry Potter books certainly should not be credited with (or blamed for) the development of this school, the financial success of Rowling no doubt fanned the imagination of this couple, who seem to have realized there is money to be made in "Potter-mania."

May the Force Be "Down Under"…
In our May 2001 Update, we reported that an email was circulating through Australia, suggesting that Australians without a religious preference should put down "Jedi" in the religion section of the upcoming national census. Apparently, if enough Australian citizens listed a religion not already in the census, the Australian government would be forced to recognize it as an official religion.
To follow up this story, the BBC News now reports more than 70,000 Australians have declared themselves followers of the Jedi faith. According to the report, "A recent census found that one in 270 respondents—or 0.37% of the population—say they believe in "the Force," an energy field that gives Jedi Knights like Luke Skywalker their power in the films." (BBC News, 8/27/02)
Australian Star Wars Appreciation Society president Chris Brennan broke these numbers down to provide a clearer explanation: "5,000 people . . . were true hard-core people that . . . believe the Jedi religion carte blanche . . . 50,000 fans that said 'oh yeah, we'll just put down Jedi for fun' . . . [and] 15,000 people who did it just to give the government a bit of curry." (Ibid)
Though obviously most of those declaring to be of the Jedi faith were not serious, if anyone takes Star Wars this seriously, the movies have accomplished at least one of the goals of George Lucas. In an interview with Bill Moyers, Lucas declared that "I put the Force into the movie in order to awaken a certain kind of spirituality in young people—more a belief in God than a belief in any particular religious system. I wanted to make it so that young people would begin to ask questions about the mystery." (Time, 4/26/1999, p. 92)

Self Described Religious Identification of U.S. Population, 2001
A survey by the University of New York gave the following statistics on religions in the U.S. in 2001:
| | | | |
| --- | --- | --- | --- |
| Assemblies of God | 1,105,000 | Methodist | 14,140,000 |
| Baptist | 33,830,000 | Mormon | 2,787,000 |
| Buddhist | 1,082,332 | Muslim/Islamic | 1,104,000 |
| Catholic | 50,873,000 | No Religion | 29,481,000 |
| Christian | 14,190,000 | Non-denominational | 2,489,000 |
| Church of God | 944,000 | Pagan | 144,000 |
| Churches of Christ | 2,503,000 | Pentecostal/Charismatic | 4,407,000 |
| Congregational/UCC | 1,378,000 | Presbyterian | 5,596,000 |
| Episcopalian/Anglican | 3,451,000 | Protestant | 4,647,000 |
| Evangelical | 1,032,000 | Scientologist | 55,000 |
| Jehovah's Witnesses | 1,331,000 | Seventh Day Adventist | 724,072 |
| Jewish | 2,831,000 | Unitarian/Universalist | 629,000 |
| Lutheran | 9,580,000 | Wiccan | 629,000 |
Some other notable findings of the researchers:
[T]he proportion of the population that can be classified as Christian has declined from 86% in 1990 to 77% in 2001;
[A]lthough the number of adults who classify themselves in non-Christian religious groups has increased from about 5.8 million to about 7.7 million, the proportion of non-Christians has increased only by a very small amount—from 3.3 % to about 3.7 %;
[T]he greatest increase in absolute as well as in percentage terms has been among those adults who do not subscribe to any religious identification; their number has more than doubled from 14.3 million in 1990 to 29.4 million in 2001; their proportion has grown from just 8% of the total in 1990 to over 14% in 2001.
[T]here has also been a substantial increase in the number of adults who refused to reply to the question about their religious preference, from about four million or two percent in 1990 to more than eleven million or over five percent in 2001. (http://www.gc.cuny.edu/studies/key_findings.htm)
While polls such as this and those by other pollsters, like Gallup and Barna, may vary somewhat, they do concur on important points: those who disassociate themselves from "organized religion" and embrace New Age spiritualities are growing in numbers. Referring to these "nonbelievers," David Hackett, an associate professor of religion at the University of Florida in Gainesville, states, "When people classify themselves as nonbelievers, many are really saying they no longer believe in church and doctrine, not necessarily that they don't believe in God." (St. Petersburg Times, 6/9/02)
The Times article noted that "They may be part of the 14% who don't identify with any religion. They don't have to read the Bible, the Torah, the Koran or writings from the Dalai Lama. They don't need churches, synagogues and mosques. What they need, some believe, is greater belief in themselves." (Ibid)
On this point, Hackett said, "In contemporary society, we tend to be so wounded that we tend to talk about building up our 'self.' This is one reason Oprah Winfrey has become so popular." (Ibid)
Concerning Winfrey, the Times referred to a recent article in Christianity Today, titled "The Church of O," in which the magazine interviewed Oprah's former pastor Jeremiah Wright. Wright said Winfrey, who left his church eight years ago, "now has this sort of 'God is everywhere, God is in me, I don't need to go to church, I don't need to be a part of a body of believers, I can meditate, I can do positive thinking' spirituality. It's a strange gospel. It has nothing to do with the church Jesus Christ founded." (Ibid)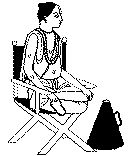 Sally Kirkland: Actress, Minister, Yogi...
Kirkland is not only an avid practitioner of yoga but also a mentor to many in Hollywood. On her website she claims to have introduced yoga to Farrah Fawcett, Dwight Yoakum, Robert Redford, Raul Julia, Robert De Niro, Elia Kazan, Bob Dylan, James Keach, Sandra Bullock, Richard Benjamin and Paula Prentiss, among others. (http://www.sallykirkland.com/pages/bio.html) She is also an instructor at the Integral Yoga Institute and an ordained minister in the Church of the Movement of Spiritual Awareness, which was founded by noted New Ager (and former Mormon) John-Roger. According to the Church website, their purpose is to "teach Soul Transcendence, which is becoming aware of yourself as a Soul and as one with God, not as a theory but as a living reality."
According to Kirkland's website, she "is an ardent proponent of her church and its spiritual leaders, John-Roger and John Morton, and a champion of all paths that lead people to the awareness of their natural state as spiritual beings exploring their own divinity." (http://www.sallykirkland.com/pages/ministry.html)
During an interview with an LA Times reporter, she listed Jesus, Gandhi, Shirley MacLaine, and her guru, Swami Satchidananda among the important people in her life. (LA Times, 8/27/02) This is not the Jesus of her "Christian" upbringing, however. Kirkland maintains she had a near death experience in 1996 that began her "serious spiritual study" leading to her involvement in yoga. The end result was that "Ultimately she found an organization that integrated her Episcopalian/Catholic/Christian upbringing with her Eastern spiritual/mystical practices." (Ibid)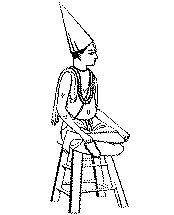 Yoga Kicked Out of School…
As children throughout the nation return to school, at least one school decided the best way to help them calm down and get back to the business of education after the summer break would be through yoga. Principal Barb Pitchford of Aspen Elementary School in Denver said, "Rowdy students could be calmed and readied for classwork after recess using a series of relaxing breathing and stretching techniques." (Associates Press, 8/28/02)
According to Betsy Fifield of the Aspen Youth Center, which was co-sponsoring the program along with the Aspen Center for New Medicine, "We had a large response from people interested in getting more yoga into the Aspen community . . . There are no yoga classes available for the kids." (Ibid)
It would seem not all parents have the same concerns as Fifield. According to the Associated Press, "Some families say the chanting that accompanies . . . yoga techniques creates a challenge for separation of church and state . . . In response to parents' concerns, school officials will hold a meeting Sept. 4 to answer questions about the yoga pilot program, called Yoga Ed." (Ibid.)
It is interesting that the co-sponsoring Aspen Center for New Medicine (ACNM) strongly advocates "the integration of modern science with the wisdom of ancient healing. New Medicine focuses on the relation of mind and body and the ways in which emotional, mental, social and spiritual factors can affect the whole of human health." (http://www.aspennewmed.org/mission.html) Obviously the parents opposing the use of yoga understood it is one of the "spiritual factors" used by the Center.
It should also be noted that ACNM "was founded on the concepts of New Medicine, a set of tenets explained by James S. Gordon, M.D. in his book Manifesto for a New Medicine. Dr. Gordon Chairman of the White House Commission on Complementary and Alternative Medicine policy, and Director of the Center for Mind-Body Medicine in Washington, D.C., advocates the integration of modern science with the wisdom of ancient healing." (Ibid)
The Center for Mind-Body Medicine (CMBM) website helps clarify what Gordon advocates: "Dr. Gordon integrates relaxation therapies, hypnosis, meditation, acupuncture, nutrition, herbalism, musculoskeletal manipulation, dance, yoga and physical exercise in his own practice of medicine and psychiatry." (http://www.cmbm.org/jim/gordbio.htm) CMBM also advocates the use of guided imagery. (http://www.cmbm.org/info/whatis.htm)
Dr. Gordon was also associated with Indian guru/cult leader, Bhagwan Shree Rajneesh. Concerning his involvement with Rajneesh, consumer health activist Patrick Curry wrote in The Scientific Review of Alternative Medicine,
Gordon's 1988 book The Golden Guru purports to be a psychological study of Rajneesh's movement as it turned from a world transforming force to an authoritarian controlling group. However, the book is filled with elaborate apologies both for the Rajneesh and for Gordon's own involvement with the cult. In this book, he describes his own 'rebirthing' experience at Rajneesh's Indian commune, defends the commune's use of violent psychotherapies, justifies Rajneesh's accumulation of 93 Rolls Royces as a spiritual lesson showing 'contempt' for wealth, and partially blames the Oregon commune's deterioration on the intolerance of local Oregonians. Gordon appears to have been an enthusiastic supporter of the Rajneesh from the early 1970s through the time of Rajneesh's expulsion from the United States in 1985 under threat of prosecution for conspiring to poison Oregon townspeople and commune members. (http://www.quackwatch.org/11Ind/gordon2.html)
As Curry mentions in his article, a quick check of the products offered on Gordon's Center for Mind-Body Medicine's Online Bookstore revealed they continue to promote the Rajneesh's "Dynamic Meditation" and "Kundalini Meditation" audio CDs under the deceased Rajneesh's pseudonym of OSHO.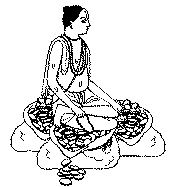 Cut-throat Monopoly, Yoga-style...
Even as yoga mainstreams into the culture, it appears all is not tranquil in "Yoga Land." The Washington Post reports that as yoga has grown to be a multi-hundred-million dollar business, it has produced "yoga tycoons" that in "battling over market share are exhibiting the same sort of spiritual enlightenment and inner peace previously demonstrated by the likes of, say, John D. Rockefeller or Bill Gates." (Washington Post, 8/27/02, p. C01)
Examples of this "corporate mindset" can be seen in the following cases cited by the Post:
Bikram Choudhury, who calls himself the 'Guru of the Stars,' has trademarked his favorite yoga poses so nobody can teach them unless Choudry gets cut in on the take. . . . An Indian immigrant, Choudhury has franchised his "hot yoga" method to 600 studios nationwide. He taught yoga to Madonna and Michael Jackson. He compares himself to Jesus and Buddha. He claims he can cure any disease. He lives in a Beverly Hills mansion with his collection of classic Bentleys and Rolls-Royces. . . .
In New York, the owners of the Jivamukti Yoga Center—which teaches 2,000 students a week and boasts of such celebrity clients as Steve Martin and Monica Lewinsky—are threatening trademark action against former employees who've left to start their own schools. . . .
Writer Paul Keegan [reports], yogis are accusing Yoga Journal, America's foremost yoga magazine, of "thuggist behavior" in its hardball pursuit of a monopoly in the lucrative yoga conference business. (Ibid)
Post writer, Peter Carlson concludes that "folks trying to teach yoga anywhere in America are finding that nearly all the formerly holy words of yoga have been trademarked. If you want to use them, you've got to shell out the dough."

Bond With the Maharishi Mahesh Yogi…
Former Beatles'guru Maharishi Mahesh Yogi certainly understands the importance of making a dollar. In the December 2001 Update, we reported his plan to end terrorism by having 40,000 yogis create a spiritual force field through yogic flying (hopping in a seated lotus position). All he needed was some government(s) to give him a billion dollars.
It seems none took him up on his offer, so now he is offering bonds to raise the needed money. According to a news conference the Maharishi held on August 28th, his country, the Global Country of World Peace (GCWP), will offer the bonds that will pay 6 to 7 per cent interest. The bonds are issued in and paid in "raams," the currency of the GCWP. The GCWP is not so much a place as it is a consciousness. However, it does have language capitals throughout the world, with the North American capital being in Maharishi Vedic City, Iowa.
The Maharishi said he would no longer look to human governments to help him bring about world peace—he'll do it on his own. The plan is to build 3,000 "Peace Palaces" around the world, surround them with organic farms and sell the food produced to generate a profit to pay the dividends promised to investors.
Reporting on the news conference, The Washington Post pointed out that "He [Maharishi] was a bit vague about how Global Country would make a profit from yogic flying and world peace. 'It's a program to buy—ah, what do you call it?' He paused for a moment, and reporters could hear the bump, bump, bump of yogic fliers hopping in the room upstairs. Then the Maharishi finished his thought: 'Agricultural lands.'"
The Maharishi is confident his plan will be successful. However, he does leave himself an out, stating on one of his websites that "it must be a global effort. Even if one country remains stressed without a coherence-creating group, then world peace will be shaken—like a small thorn throws off the balance of the entire body." (http://www.mou.org/media/pr/2002_07_24i.html)
The Maharishi's press conference can be viewed at http://www.mou.org/media/replays.html.